A week before 911, Mark Colgan lost his wife to heart disease.
In the span of a single day, he went from waking up next to her to planning her burial. Even for a Certified Financial Planner™, the mountain of financial and legal details that spanned the next year of his life was overwhelming.
Whether you're a surviving spouse, partner, child, or friend, Death's Red Tape guides you gently through the financial and administrative process following the death of a loved one. The book is organized chronologically in small, clear sections so you can face each task one step at a time, with checklists to keep things simple. It even includes a glossary of technical terms along with valuable websites and resources you'll need along the way. In this difficult time, a book can't erase all the challenges of your loss, but it can make the practical aspects of navigating that loss a little easier.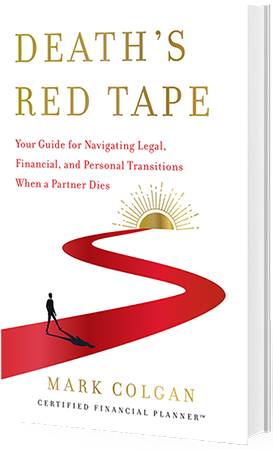 MARK COLGAN understands the unique financial needs and overwhelming emotional challenges that come in the aftermath of losing a loved one. His personal experience, combined with more than two decades of wealth management expertise, inspired him to help other bereaved survivors organize their financial affairs and forge a clear path to financial independence so they can enjoy a brighter tomorrow.