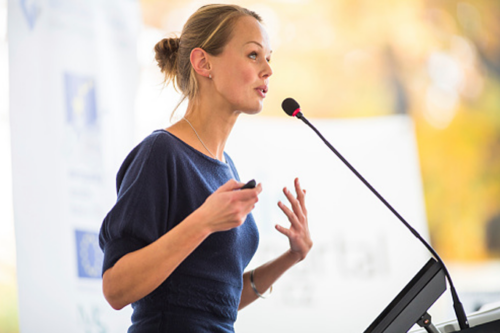 Although more women are being seen in senior management positions, we still see significant disparities. For every company run by a woman, there are almost 13 run by a man.¹ Only 6% of the CEOs of S&P 500 companies are women and 8% of CEOs of Fortune 500 companies are women.²
However, as reported in a CNN article, "a new study from S&P Global Market Intelligence found that public companies with women CEOs or CFOs often were more profitable and produced better stock price performance than many of the companies that had appointed men to those roles."³
Even though women are no less qualified than men to run a business, men are regularly held to higher standards. With more women CEOs coming into the picture, they are sharing valuable advice that is beginning to affect other women and the market. Here are five lessons from female CEOs that have achieved and excelled in top leadership positions.
1.Be a Leader
Female leaders excel in ethics and fairness.⁴ Exercise toughness when you need to and certainly don't be passive but don't fall into over-aggressiveness or narcissism. Be a leader, not a dictator.
Anna Gong, the CEO of Perx Technologies learned the importance of leadership and assertiveness. She saw the possibility for a bigger role in the company and approached her boss about it who turned her down. She asked again two weeks later with the same result. Gong then took advice from a leadership coach and got the job on the third try. Gong says, "If you don't try, you never know. You need fervor and tenacity – never give up too early if you believe in yourself!"⁵
After taking the job and realizing the company had to make some big changes, she had to practice assertiveness with some of the older men in order to get them to approve her changes. It involved some shouting and swearing, which she doesn´t necessarily recommend. On that she says, "I wasn't acting like a man. I had to be assertive, as would any business professional, given the company's situation."⁵
Women also have a knack for being empathetic and understanding; don't only be a leader that your employees are proud of, be a leader that helps your employees grow. In addition, champion compromise and delegation. You don't have to do everything yourself, but be sure that you effectively distribute tasks and don't become disconnected from the rest of your company.
2. Have Walkaway Money
Walkaway money is money set aside to give you the power to leave your job if it comes down to that. Many people are stuck in jobs they hate because they are living paycheck to paycheck and can´t afford to quit. Setting aside a small amount every week will add up and can be treated as a backup plan. Not necessarily that you will leave your job, but the ball is hypothetically in your court so you are in control, rather than your employer.
"The key to managing your finances is to build a rainy day fund into your planned spending – no matter how small. People say that hindsight is a wonderful thing but when it comes to money I believe it is quite the opposite. If you plan carefully, you can ensure that you have a better chance of being financially secure in the future," says Anne Boden, CEO and founder of Starling Bank.⁶
3. Encourage Employees to Grow
Research shows that female leaders prioritize mentorship. It's important to build up and mentor your employees, professionally and personally so that they can hone their skills and develop a passion for their work.⁴
Along with talking about their profession, women are encouraged to talk about money in their inner circles. Money used to be a taboo topic amongst women but many have begun to talk openly about it with their friends and online community. "Being able to talk openly about money helps you become more confident and assertive, which is key to building a healthier financial future," says Emilie Bellet, founder and CEO of Vestpod and host of The Wallet podcast.⁶ This has been instrumental for women to negotiate for higher wages and better jobs.
Business executives have their plates full with operational responsibilities, but simply exhibiting your own passion for your work will take important steps in instilling that same passion in your employees. Always keep a line of communication with your company and keep tabs on every department.
4. Invest
With new financial education and an increased amount of participation in the workplace, women are becoming more financially savvy. Money-talk used to make women feel uncomfortable. But now that the barrier is being broken down and more women are talking openly about managing their finances, investing strategies, and financial professionals to work with, more women are feeling empowered with their finances.
Emilie Bellet's advice is to, "Tackle your debts; build an emergency savings nest, and set a clear budget (and stick to it!). It's also important to put your money to work for you early – investing is a great way to save for your future."⁶
Investing will go hand in hand with your walkaway money plan. When talking about investing make sure to think about what you want your future to look like so you can set yourself up for the best possible outcome.
5. Know When Not to Take a Risk
Male leaders have an edge over female leaders when it comes to risk-taking.⁴ Some of the best decisions often involve risk, but there are some situations where the costs are too great for a potential reward.
If a decision isn't risky for you but may be for your peers or coworkers, don't disregard that. It's still a cost, even if it doesn't impact you directly. Big moves make big differences, but it's important to think through all decisions with clarity and tact.
Despite roadblocks, even systemic ones, believe in your abilities and use them strategically. These exemplary female leaders are proof of societal progress and the fruits of hard work. In the face of adversity, we all must continue to create goals and work towards them with grit and compassion; that's the biggest lesson we can take away from hardworking executives.
According to Forbes, "Almost a third (32%) of the world's wealth is now controlled by women and their assets are growing rapidly. By 2023, women globally will be worth $93 trillion, compared with $77 trillion today."⁶ Small steps are now becoming long strides in the push for equality. The changes are happening and we look forward to seeing more successful female CEOs in the near future.
Releasing in May 2022, Deaths Red Tape is a new technical guide by Mark Colgan on the logistics people have to contend with after they lose a loved one. Follow Mark's Amazon page here to be notified when it's released and see the other books in his collection.
1. https://www.catalyst.org/research/women-in-management/
2. https://www.fool.com/investing/how-to-invest/top-ceos/top-women-ceos/
3. https://www.cnn.com/2019/10/16/success/women-ceos-and-cfos-outperform/index.html
4. https://www.pewsocialtrends.org/2015/01/14/women-and-leadership/
5. https://www.dukece.com/insights/leadership-lessons-female-ceos/
6. https://www.forbes.com/sites/marijabutkovic/2021/01/07/5-female-leaders-share-their-advice-on-how-to-be-more-financially-savvy/?sh=18a9c2fb6709